Veggie crunch rolls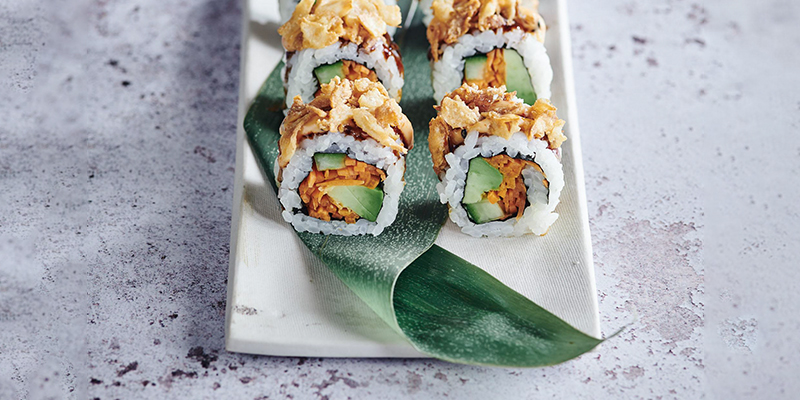 Ingredients
180g (6oz/scant 1 cup) sushi rice
3 tbsp seasoned vinegar for sushi rice
4 nori half sheets
4 long slices of cucumber
1 small carrot, around 80g (3oz), fine matchsticks
8 slices avocado
Teriyaki sauce, to drizzle
Spicy mayo to drizzle
Ready-made fried onions, to sprinkle
Steps
1
Make the rice according to the instructions 220ml water with seasoned vinegar. Divide the rice roughly into four portions.
2
Put a sheet of nori on top of the sushi mat, shiny-side down and with the longest edge lying horizontally. Spread a portion of the rice to cover, then flip the nori over. Arrange a length of cucumber in the middle of the nori, followed by the carrot, spreading it out to the ends. Add a couple of slices of avocado and spread out again so it is even. Roll up to make an inside-out roll. Do the same again to make 3 more rolls.
3
Slice each into 8 pieces, then drizzle with the teriyaki sauce, a little spicy mayo and top with the fried onions. Serve with soy, wasabi and ginger.